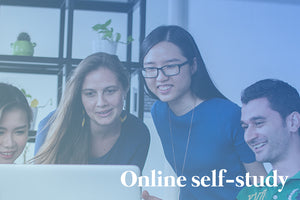 Language: English
Type: four-hour self-study program
Be a great colleague!
Get to grips with the skills everyone needs in contemporary working environments. Learn at your own pace with inspiring digital material.
The four courses in the program, each lasting one hour, cover the key skills needed in the modern workplace with language tips, useful phrases, videos, animations, and dialogs. Strengthen your skills and test the key learning points with activities, scenarios, and exercises.
Courses:
1. Representing Your Company
Your behavior and the way you present yourself are a large part of representing your company, both online and in person. This means everything from effectively introducing yourself and colleagues at work-related events, to your posture, facial expressions and tone of voice. Study the skills needed to project a professional appearance and be an effective ambassador for your company and its brand.
2. Understanding Emotional Intelligence
Success at work is often based on your intelligence, creativity or technical skills. However, to truly set yourself apart at work, you need to develop your emotional intelligence. Learn to be aware of your own emotions, values and beliefs, as well as techniques for self-regulation and motivation in the workplace. You will also learn how to boost your social competence through empathy and social skills.
3. Facilitating Change
Change is a defining feature of the modern workplace, so effective change management and leadership are essential. Study the skills needed for fostering change and strategies for overcoming resistance to change across cultures, while remaining sensitive to the human impact of change. 
4. Coaching Employees
Coaching leads to increased retention and improved performance. Study the skills and language needed to be a good workplace coach who can maximize the potential of staff and team members.
Four hours of online self-study material with animations, infographics, useful phrases, activities and exercises and downloadable resources. The study material is freely accessible for 90 days from the date of purchase.