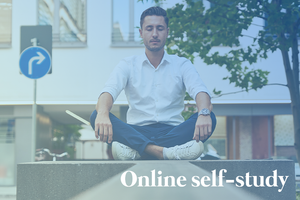 For Specialists, Supervisors and Mangers Working With Occupational Healthcare As Customer or Provider

Language: English
Type: 4 hours of self-study material
Recommended level: B1 - B2 high
Study the terminology and language used in English for occupational healthcare with our self-study program.
This material covers the work-ability journey from new employees entering work, identifying the threats to work ability facing employees and reducing risks through preventive occupational health services, to requiring sick leave and then rehabilitating and returning to work.
Ideal for anyone working within the Finnish occupational healthcare system or anyone who deals with occupational healthcare services at their work, whether in Human Resources (HR), as a supervisor, or as a manager. The material is suitable for learners with a B1-B2 language level (intermediate to high-intermediate).
The course material follows you as you serve your customer:
meeting with the new HR manager to explain the services you provide
providing information to supervisors and employee representatives on how to deal with employee sick leave and accidents at work
explaining reimbursement categories and why preventive measures are more compensated than medical costs
preparing for tripartite negotiations on an employee returning to work from a long sick leave
detailing the services provided by work coaches,
and presenting a yearly review on activities at your client. 
The course will also help you to improve your small talk skills, boost your fluency through listening exercises, and strengthen your grammar.
10 topics:
Meeting a New Contact and Building Rapport
The Occupational Workplace Survey and Action Plan
An Employee Health Check
An Accident at Work
Taking Sick Leave
Prevention, Not Cure
Returning to Work From a Long Sick Leave
Work Coaching
Presenting a Report
Revision
Contents:
10 work-related multiple-choice scenarios where you choose from a range of responses
An audio recording of each completed scenario for you to read along with to improve your pronunciation
A range of digital exercises to help you practice and test your knowledge
Glossaries of key terminology and vocabulary for occupational healthcare

A checklist of the key learning points in each lesson
Buy today and take the work ability journey to improving your English! 
The study material is freely accessible for 90 days from the date of purchase through our online learning platform.